Prendre soin de vos Cachemires

MAX&MOI

Cashmere is a uniquely fine animal fiber obtained by combing the hair of long-haired Capra Hircus goats. In the vastness of Mongolia's icy plains, their down protects them from the intense cold, giving rise to an unrivalled softness. When the wind dies down and the climate becomes milder, the goats naturally change their hair and their fleece is delicately shorn.
To prolong the life of your MAX&MOI Cashmere and Merino Cashmere pieces and preserve their condition season after season, follow these 3 golden rules.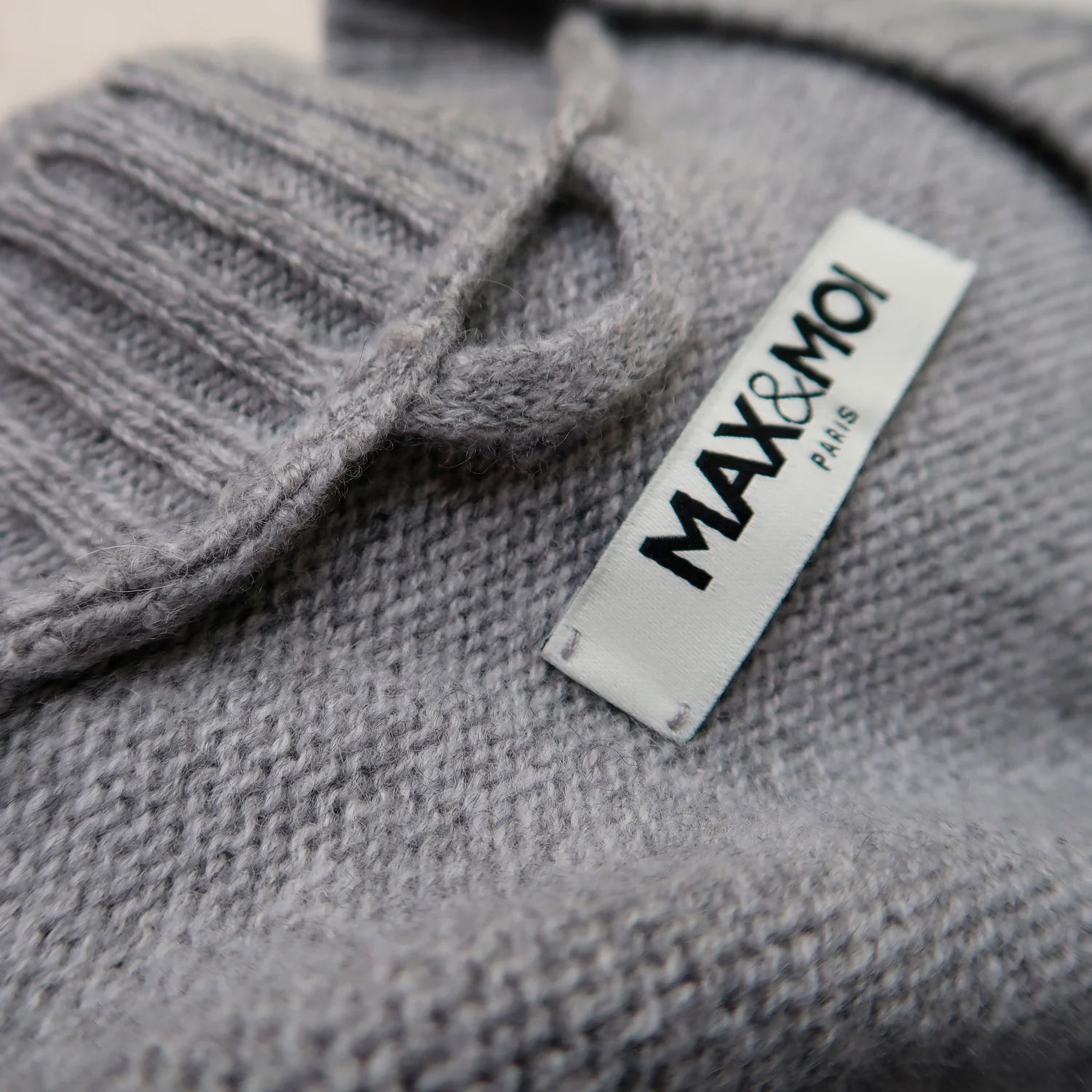 Wash your cashmere
regularly
Because of its natural origins in the vast plains of Mongolia, where unexpected summer showers occur, cashmere loves water. In fact, it needs it badly. As it gets wet, the fiber contracts before returning to its original shape as it dries, a sort of rebirth that restores the garment's splendor and suppleness, even preventing the appearance of small pilling. It's a good idea to wash your MAX&MOI cashmeres regularly. The more you wash them, the softer and silkier they will become.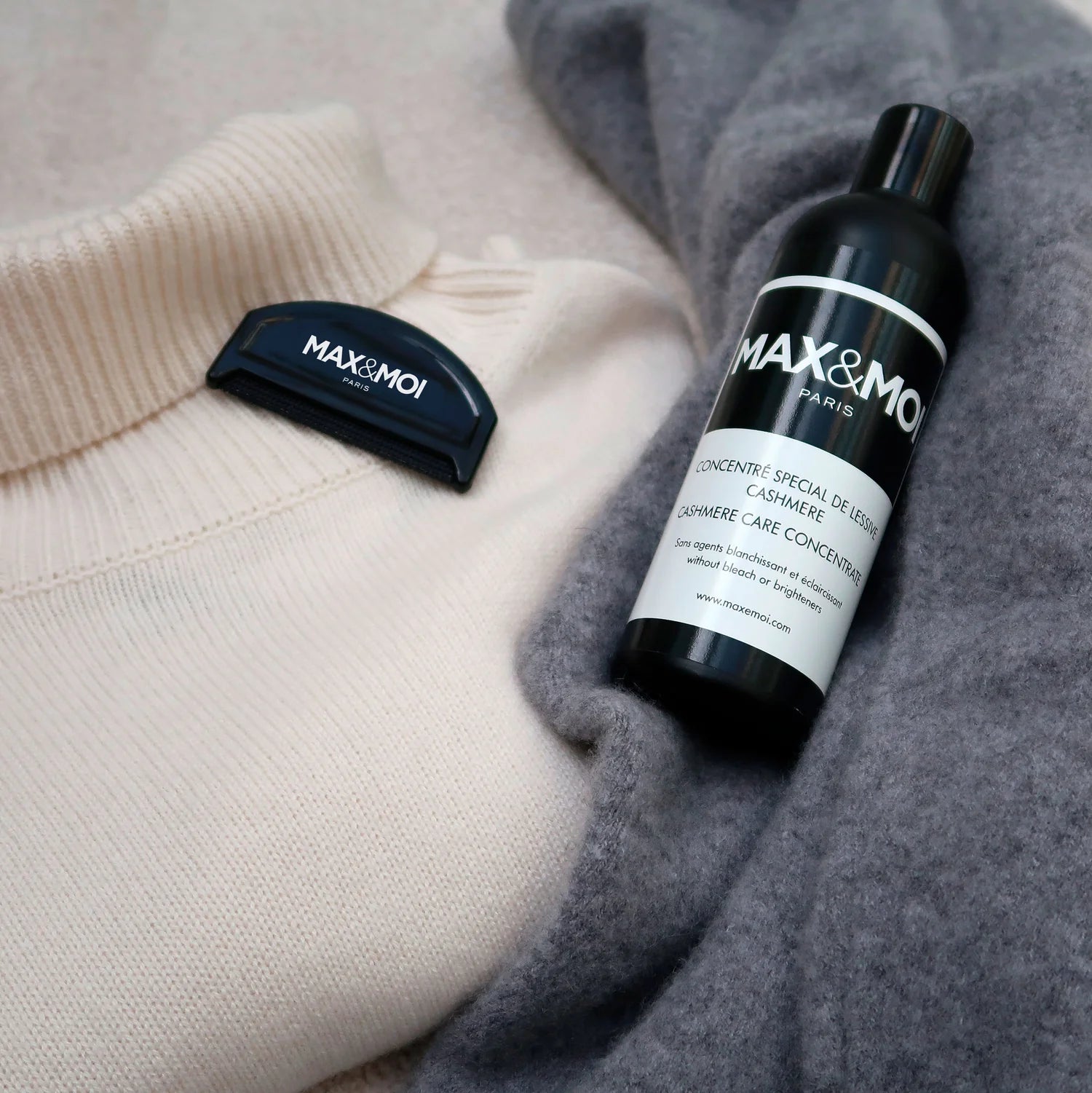 Ideally, machine-wash your cashmere inside out, using only the wool or delicates program set to cold water, with a dose of special wool detergent or MAX&MOI shampoo-care designed to preserve the softness of cashmere. Do not select a 30°C program, as the temperature in a washing machine can vary by up to +/-10%, and wool can start to shrink above 32°C. Put your cashmere garment in a wash bag to prevent damage or warping, and remember to select a gentle spin (500 rpm maximum).
If you prefer hand washing, soak your cashmere quickly in cold water, using a special wool detergent or MAX&MOI shampoo. Squeeze gently, rinse with clean water and then wring out gently in a towel, without distorting it.
For stains: dab a few drops of MAX&MOI Cashmere liquid detergent on your garment. Wait 10 minutes, then wash. Whichever washing method you choose, machine or hand, avoid fabric softeners at all costs.
Dry your cashmere flat on a towel, away from light and heat, folding in the sleeves to prevent warping. Drying a cashmere sweater or cardigan can take up to 3 days. To smooth your cashmere, you can gently iron it inside out on a soft iron, without pulling on the knit, using a low temperature and a little steam.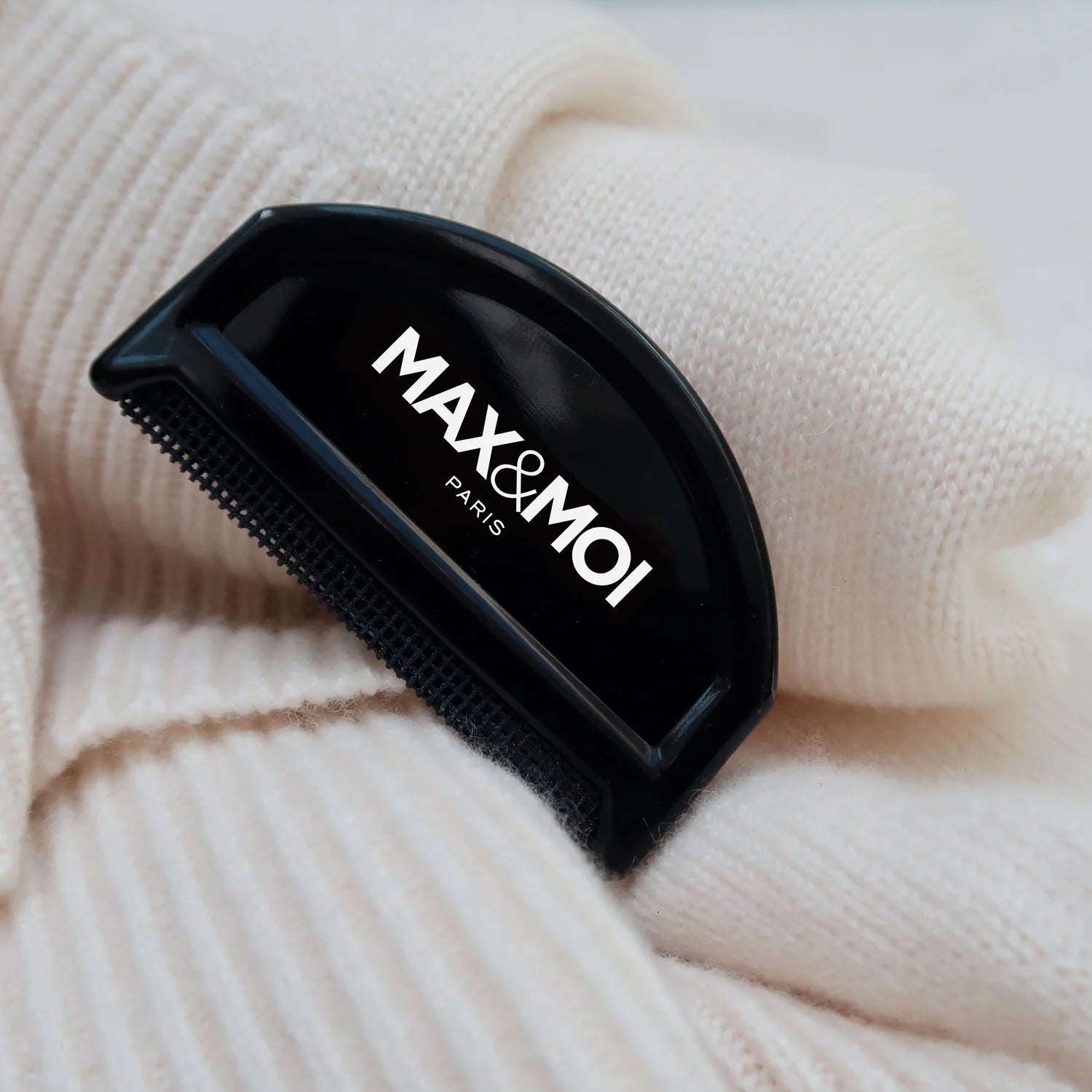 Use a cashmere
comb
Cashmere is a natural, living material with a natural tendency to pilling over time. Pilling is not a sign of poor quality cashmere, but a natural phenomenon caused by the friction of intertwined fibers. By gently combing your garment with a cashmere comb, available in our MAX&MOI boutiques, on maxemoi.com or at a haberdashery, you can smooth the fibers and eliminate knots to easily remove unwanted pilling, preserving the look and characteristic softness of cashmere.



On every MAX&MOI cashmere piece, we provide a few extra threads so that you can repair any snags, either on your own or by entrusting your pieces to a retoucher.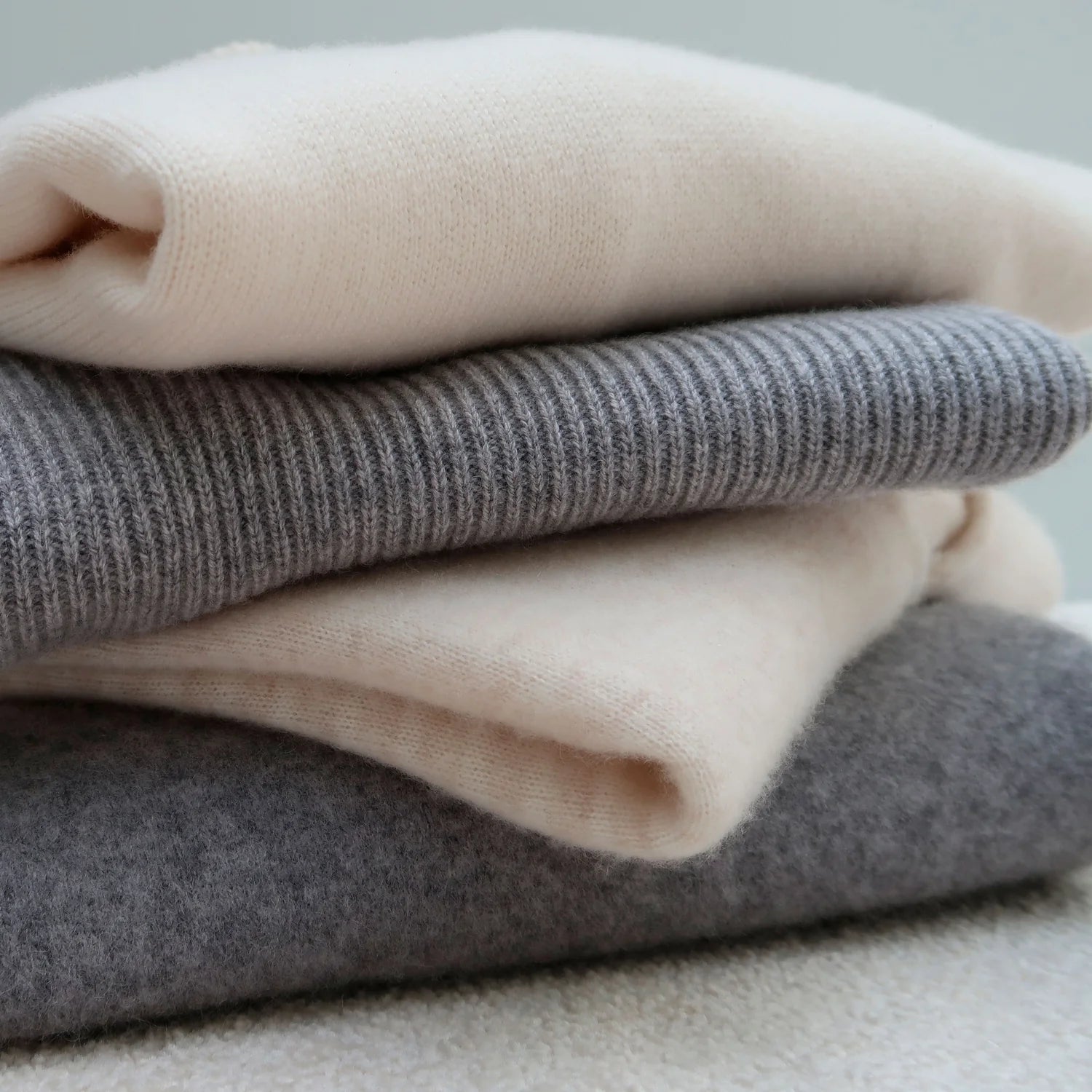 Give your cashmere
a rejuvenating break
To preserve the suppleness of your cashmere garments and allow the fibers to regenerate, avoid wearing them for more than 2 days at a time.
When not in use, store your cashmere garments away from direct sunlight, preferably in a dry place. As cashmere is a delicate, supple fabric, it's best to fold your cashmere sweaters, cardigans or dresses carefully rather than hanging them up, to avoid warping. Also, only store washed cashmere sweaters, ponchos, cardigans or summer knits.
Finally, to protect your clothes from moths, consider using a natural repellent (lavender sachet, cedar wood ball).
With respect for materials and know-how, Maison MAX&MOI has designed and created a range of products to care for your favorite Cashmere and Cashmere Merino Wool pieces.